About
The mission of the Maryland Democratic Party (MDP) LGBTQ+ Diversity Leadership Council is to energize activists through the state, register voters, amplify the Democratic message, engage with members of the diverse LGBTQ+ communities, and supplement the coordinated campaign to turn out Democratic voters throughout Maryland. In non campaign cycles the LGBTQ+ Diversity Leadership Council is responsible for increasing inclusiveness, capacity building, voter education, and empowerment of Maryland's diverse communities. By working to energize all LGBTQ+ communities throughout Maryland, we will truly be able to realize our greatest potential. The Maryland Democratic Party LGBTQ+ Diversity Leadership Council creates a foundation for activism that is both inclusive and sustainable.
Meet Your DLC
Michael Knaapen | Chair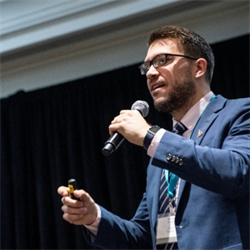 Michael Knaapen (Mike, he/him) is a native Wisconsinite who has lived in Montgomery County, Maryland, for all but one of the past ten years. There he has helped form  and lead the LGBTQ Democrats of Montgomery County, lobbied in Annapolis for LGBTQ measures, and organized Stonewall Riot commemorative events. Mike is a lifelong Democrat eager to ensure that LGBTQ voters are informed and prepared to support the party, and that the party remains the political home of LGBTQ voters – not just because it is their only option in the face of Republican bigotry, but because the party is actively seeking to empower, serve, represent, and protect LGBTQ Marylanders. Please feel free to contact him at [email protected]. He lives in Rockville with his partner Drake and their cat Merlin.
Get involved
Official DLC Calendar