About
The mission of the Maryland Democratic Party (MDP) African American Diversity Leadership Council is to energize activists through the state, register voters, amplify the Democratic message, engage with members of the diverse African American communities, and supplement the coordinated campaign to turn out Democratic voters throughout Maryland. In non campaign cycles the African American Diversity Leadership Council is responsible for increasing inclusiveness, capacity building, voter education, and empowerment of Maryland's diverse communities. By working to energize all African American communities throughout Maryland, we will truly be able to realize our greatest potential. The Maryland Democratic Party African American Diversity Leadership Council creates a foundation for activism that is both inclusive and sustainable.
Meet Your DLC
Chair - Jeremiah Pope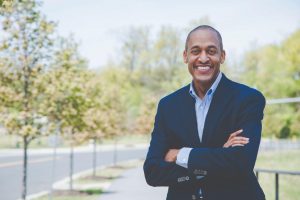 Jeremiah Pope is a lifelong Democrat and long-time resident of Montgomery County Maryland and has actively worked to maintain and improve the quality of services in his community, including serving on the East County Civic Association, Hillandale Civic Association, Friends of White Oak, and the African-American Democratic Club of Montgomery County.
Jeremiah was born in Nashville, Tennessee, and grew up in Aiken, South Carolina. He was raised in a middle-class family by his grandmother, a nurse, and his step-grandfather, a railroad worker. His grandparents instilled in him the value of education, faith, honesty, hard work, and love for community. As a child, Jeremiah participated in the local NAACP meetings with his grandmother because she wanted to ensure that he understood what it means to advocate for one's community.
After graduating from Silver Bluff High School, Jeremiah was accepted to the College of Charleston in Charleston, South Carolina. While in college, Jeremiah was a recipient of a work study grant. He worked at the college library and met his future wife Angie, who also worked at the library. Additionally, Jeremiah became a member of Alpha Phi Alpha Fraternity, Inc. and worked at Wings for Kids, a program that served low-income African-American children, so that he could make a difference in the lives of at-risk youth.
In 2003, Jeremiah graduated from the College of Charleston with a Bachelor of Arts in Political Science. Then he headed to Washington, D.C. to participate in a prestigious internship with United States Senator Ernest "Fritz" Hollings and the EMILY's List Campaign Corps program. After his internships, Jeremiah began his professional career working around the country campaigning for Democrats to get elected to local, state, and federal office. During this time, Jeremiah earned a Masters of Arts in Public Policy degree from New England College.
In 2006, Jeremiah started J Pope Consulting, LLC, a professional fundraising and consulting company, because he saw the absence of African-Americans in the political space and he wanted to change the deficiency of diversity in the industry. Through determination, hard work, and drive to affect change in his community, he persevered to grow his business into one of the largest African-American owned fundraising businesses in the D.C. Metro Area. Fifteen years later, J Pope Consulting has been an integral part in diversifying the industry and winning Democrat races up and down the ballot.
Notably, after many years in business, Jeremiah helped elect the first African-American woman to Congress from the State of Maryland and other Congressional Black Caucus Members. In 2019, Jeremiah accepted a position as Chief of Staff, in the office of Maryland's Delegate Charlotte Crutchfield. In the 2022 Gubernatorial Election Cycle, Jeremiah was a candidate for Montgomery County Council District 5, where he received endorsements from a number of notable elected officials, organizations and The Washington Post.
Jeremiah and his wife attend Kingdom Fellowship AME Church with their son who is a proud upcoming first grader in Montgomery County Public Schools. They live in Hillandale – "Hidden Gem" of Silver Spring, Maryland."
Get Involved