Maryland Democratic Party Puts Up Three Digital Billboards
Maryland — Yesterday, April 29th, on the 100th full day of the Biden-Harris administration, the Maryland Democratic Party put up three digital billboards across Baltimore, highlighting the successful goal of 200 million COVID-19 vaccines administered in less than 100 days.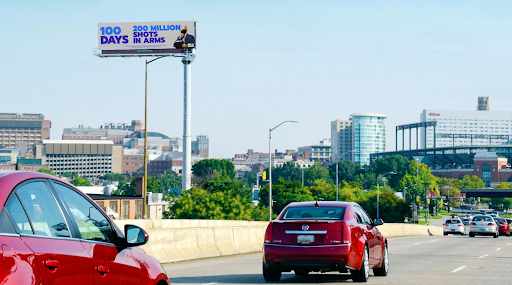 The three digital billboards were placed Thursday, April 29th, and will run through Tuesday, May 4th. The billboards are rotating, and within the first 24 hours have already been seen by an estimated 100,000 Marylanders. They are located at:
I-895 @ East Lombard Street – South Facing

I-895 @ East Lombard Street – North Facing

I-95 @ Clifton Street – North Facing
The billboards are part of a larger push by the Biden-Harris administration and the Democratic Party to take credit for Democratic successes, and to ensure voters know who's delivering results for them. This push includes the administration's 'Getting America Back on Track Tour' which brought Vice President Harris to Baltimore City, where she lauded the impact of the American Rescue Plan which delivered $670 million in aid to the city, and a total of $6.355 billion in relief funding to our state. 
"President Biden and Congressional Democrats have delivered results for Marylanders, and are getting America back on track. They've put over 200 million shots in arms, sent checks to 85% of Americans, and created over a million jobs," said Maryland Democratic Party Chair Yvette Lewis. "Too often, Democrats have helped Americans, but not taken credit for their work. But not anymore. Over the next months, our Party will be ensuring every voter knows who is responsible for the checks in their pockets, and shots in their arms."
###