Annapolis— On Tuesday, Governor Larry Hogan addressed the Maryland Free Enterprise Foundation where he told attendees, without a hint of irony, that he was preparing for "the battle that will literally determine what kind of state our kids and grandkids will inherit."
"Hogan's not the kind of guy you want on your class project. He'll let the smart kids do all the work, then show up to take the credit," Maryland Democratic Party Executive Director Ben Smith said. "Expectations for the Governor are low, because he doesn't have to do much so long as Democrats are running the General Assembly and Democratic Executives are in charge of the State's major economic engines."
Instead of governing with bold leadership and a strategic vision of his own, Hogan has principally governed through inaction, political opportunism, and negligence towards underserved communities.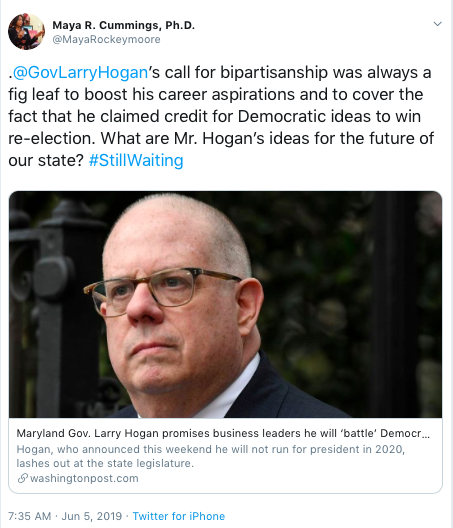 Maryland Democrats made significant strides towards implementing the education recommendations made by the Kirwan Commission during the 2019 legislative session. But Tuesday, Hogan indicated he was ready to go to "war" over an education proposal that— according to the Washington Post— will "dramatically reshape the state's public education system, raising teacher pay, creating free preschool for every 4-year-old and enacting myriad other reforms."
During his speech Hogan claimed credit for Maryland's economic success and said Maryland Democrats "seem hellbent on stopping all of the economic progress and positive momentum that we have achieved."
But the truth is that when he isn't boldly claiming credit for legislation he neither led, participated in, or conceived— he has failed miserably on his own. On Hogan's watch Maryland public school rankings have fallen; he lost a Fortune 500 company and its 1,300 jobs when he negligently failed to meet with the company's leadership; and he squandered $900 million in guaranteed federal funding for Baltimore's Red Line project without offering city residents a comparable solution.
Democratic policymakers and executives— on the other hand— are responsible for improving the lives of all Marylanders, and are the reason Maryland consistently ranks as one of the top states in America in terms of opportunity and economic strength.
Business Insider ranked Maryland's economy #14 of all 50 states and the District of Columbia. U.S. News ranked Maryland second only to New Hampshire in terms of providing all of its residents a fair and equitable opportunity to succeed. And Maryland was ranked 6th best state overall by U.S. News.
Allowing Democratic bills to pass into law without a signature and having one's policy priorities regularly ignored or overridden does not constitute leadership. Whatever 'battle' Hogan is preparing for, it is likely to be one sided.