A Tent Where You Can Feel Comfortable
By Akbi Khan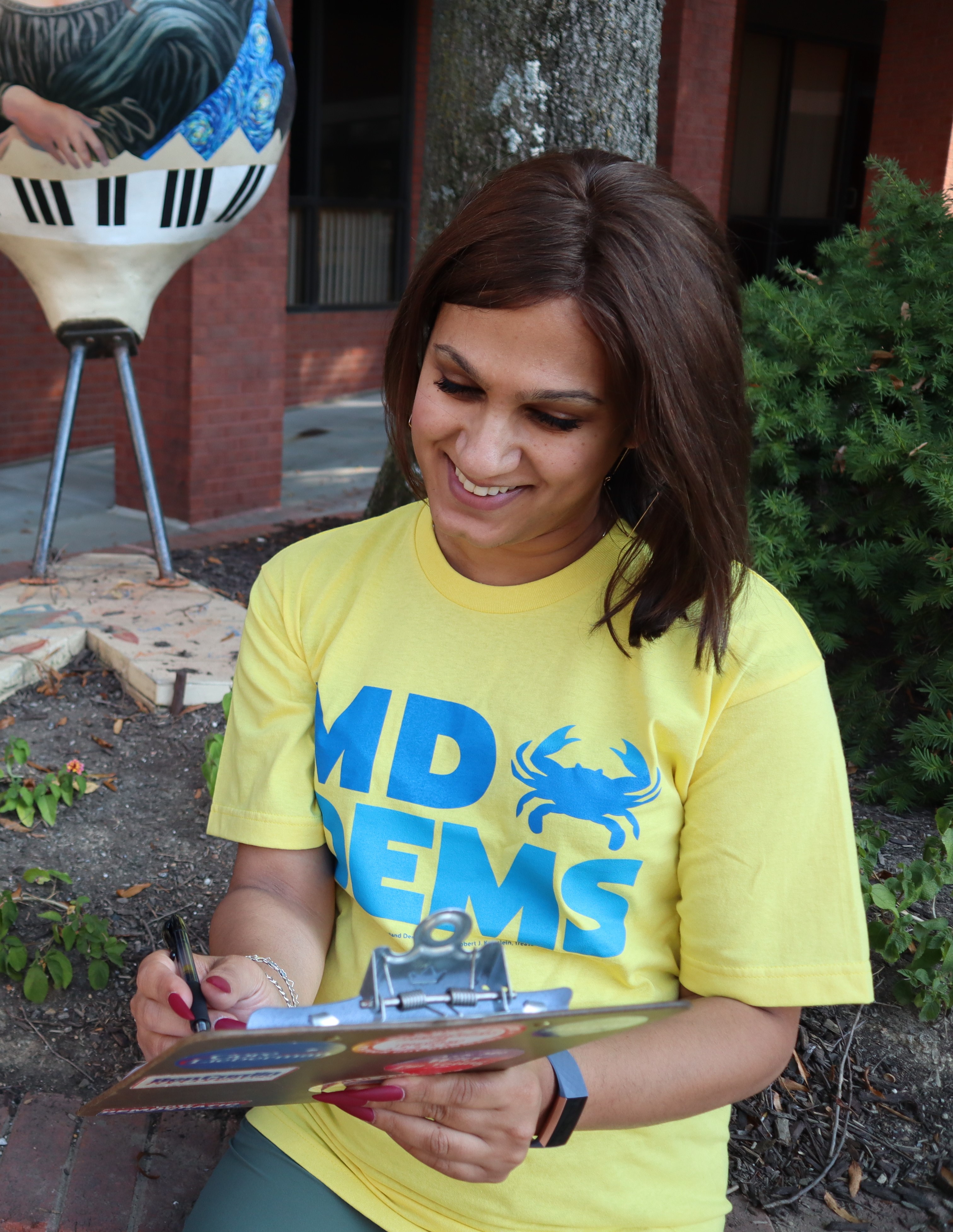 On November 9th, 2016, I sat before a television screen showing that Trump had won and actually hung my head and cried. Soon I developed a method to manage my heartbreak: taking part in politics in Howard County, my home for the past 42 years. I'm still a local politico, but it's not just because of Trump. It's because my upbringing included a focus on effecting positive change in one's community.
Allow me to introduce myself. My name is Akbi Khan, and I'm an intern at the Maryland Democratic Party in Annapolis. I was born a Democrat. The big-tent philosophy of the Democratic party is its most enduring characteristic and why it's always appealed to me.
I'm 42 years old and trans. I'm also of South Asian and of Shi'a Muslim descent. I need the big tent, clearly. I had one on my bed in elementary school, and it felt large enough to fit all the identities I was beginning to come to terms with and yet cozy enough to make me feel safe. 
I invite you to join me as chronicle my Maryland-Democratic life in this column. The big tent will stay up—it may even grow as it accommodates every kind of American, every Tom, Dick, and Harinder. You and me, reader, we'll make sure of it. 
Though I didn't become involved in politics until I was 40-years-old, in retrospect I grew up with an outlook that almost pre-ordained me to a life of grassroots activism, because I've always believed in that big tent that everyone can assemble under. In pre-K, at St. Mary's School in Laurel, Maryland, running in between friend-groups to play during recess, I wondered, "Why can't we all just play together?" We can, I realize now, it just might not always be simple and easy to get there. But it's still worth it to strive toward that goal. And, to me, that's what the Democratic party is doing–striving.
During my teenage years, my identity as a trans individual and a member of the LGBTQ+ community came into focus. This was the 1990s–and things were very different back in Clinton's America for members of the LGBTQ+ community. I went from a bubbly, gregarious child to a withdrawn, morose teen who literally hid behind my chin-length hair. I was afraid to let people see or hear or touch the real me because that me didn't exist anywhere else as far as I could see, and I feared rejection. 
My mother once said to me, "You're always locked in your room–what are you doing there?" I was squirreling away books by LGBTQ+ writers that made me feel less alone, trying on the clothes I felt comfortable in but wasn't bold enough to wear in public, and gazing out my balcony wondering if I'd ever have the courage to jump.  But there was still an outside world I had to exist in. And in that world, I cringed at being labeled anything but a Democrat. 
I can remember standing in a fluorescently-lit office registering to vote at 18, and I was thankfully coming to the end of a "why do we need to pick a side" phase. I just couldn't bring my quivering hand to check any box but the Democratic one. Newt Gingrich's Republican Party and the religious right were not welcoming to someone with my identity. The Democratic Party, on the other hand, was the party of youth, the party of immigrants, the party of workers, and the party of the future.
At 18 I developed some dangerous coping mechanisms, and when those methods almost took my life, they snapped everything into focus. I lay in a hospital bed at 21, staring out the window and thought: "Enough is enough. I do love life and myself, and I know I always have the refuge of the big tent to turn to for support and solace. It's time to start living–as the real me pursuing what I really love and being real.
A lot's happened within the Democratic party since Saturday Night Fever. We've elected our first Black President. We've passed marriage equality. We've spoken up for DACA citizens. So the one thing that seems like it's the same is that you can be who you want if you're a member of this party, and if you're a member of the other one…well, good luck to you.
As an adult, I'm still fascinated by big tents. Sometimes I go to sporting goods stores and just look at them. Once when  did so, it felt good to see that they've evolved. They have dedicated rooms, a place to snooze peacefully, even space for your pets to come and go!
The bigger the tent, the more facets it has. The Maryland Democratic Party is, as Executive Director Ben Smith wrote recently in an article available on our website: …a living, breathing, fully functioning body year-round, focused on staying in fighting shape."  There'll be a lot going on within it in the future, and hope you'll turn to this column to keep up with it.
In the past I've had to take, to claim spaces–print and online–to create my own platform. It was beautiful to do so, don't get me wrong. But my colleagues at the Democratic party here in Annapolis have offered me a platform for the first time in my life. I take it very seriously. And I hope you'll see that as I talk about what's going on locally and nationally in Dem politics in this column.
Akbi Khan is currently an intern at the Maryland Democratic Party. She is also Vice-Chair of the Maryland Democratic Party's LGBTQ+ Diversity Leadership Council.