For Immediate Release 4/27/2020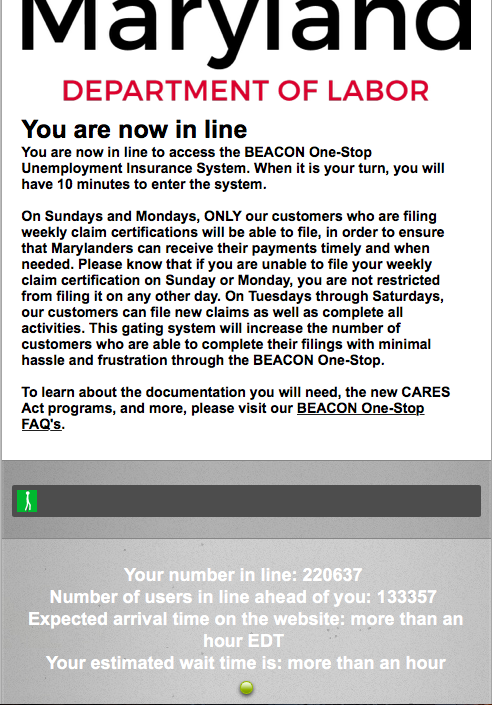 Annapolis, MD–  More than 150,000 Marylanders were waiting online to access the State's unemployment benefits site on Monday afternoon. The new BEACON One-Stop unemployment insurance application is unable to keep up with the unprecedented need for unemployment benefits in the midst of the Covid-19 pandemic. Democrats have called on Governor Hogan to pursue decisive alternative measures to mitigate the problem as the State and its chosen web vendor work through the BEACON site's issues.
For context, then candidate Larry Hogan said it was "absolutely disgraceful" that the Maryland Health Benefits Exchange was similarly overwhelmed in 2014. And lamented further that, "the people ultimately responsible for this [website issue] are the Governor and Lt. Governor."
Now Democrats are seeking a similar sense of accountability and urgency from Governor Hogan to deliver unemployment relief to hundreds of thousands of Marylanders without work.
"The reality is that bills are coming due on May 1st; the federal stimulus roll-out was a botched one-time fix; the small business relief loans intended to keep people working went to publicly traded corporations instead of local establishments; and now Marylanders are locked out of their final lifeline– their unemployment benefits," Maryland Democratic Party Chair Yvette Lewis said.
Chair Lewis said that her Party's first priority is working people and their families. She said those people are running out of time. Speaker Adrienne Jones and Senate President Bill Ferguson facilitated expedited passage of emergency Covid-19 relief measures during the truncated 2020 Legislative Session to ensure that Governor Hogan had all of the tools, authority, and resources needed to respond to the novel coronavirus crisis. 
"We desperately need a Plan B for our families in need and we are running out of time," Chair Lewis said. "Governor Hogan and his administration are the only ones with the authority and the resources to fix Maryland's unemployment program by deploying more coders; significantly scaling up call center capacity; and creating digital and analog short-term solutions to circumvent the website's failure. We have done all that we can do, and he's got to take this across the finish line if we want to avoid yet another disaster."
# # #